FMS 900MM AVANTI 70MM EDF JET ARTF w/o TX/RX/BATT (FS0230)
FMS 900MM AVANTI 70MM EDF JET ARTF w/o TX/RX/BATT (FS0230)
| | |
| --- | --- |
| Brand: | FMS |
| Product Code: | FS0230 |
| Availability: | Out Of Stock |
FMS 900MM AVANTI 70MM EDF JET ARTF w/o TX/RX/BATT (FS0230)

The FMS Avanti is a mutual-developed airplane between the FMS design team and Sebart Team in Italy. The original design and authorization are from Sebart, with the additional FMS advanced production ideas, it really is a fine piece of work.
The Avanti is assembled with screws only so you can be out flying quickly and features some of FMS's newest design ideas.

If you're after a cost-effective, high performance jet trainer, then the FMS Avanti is for you!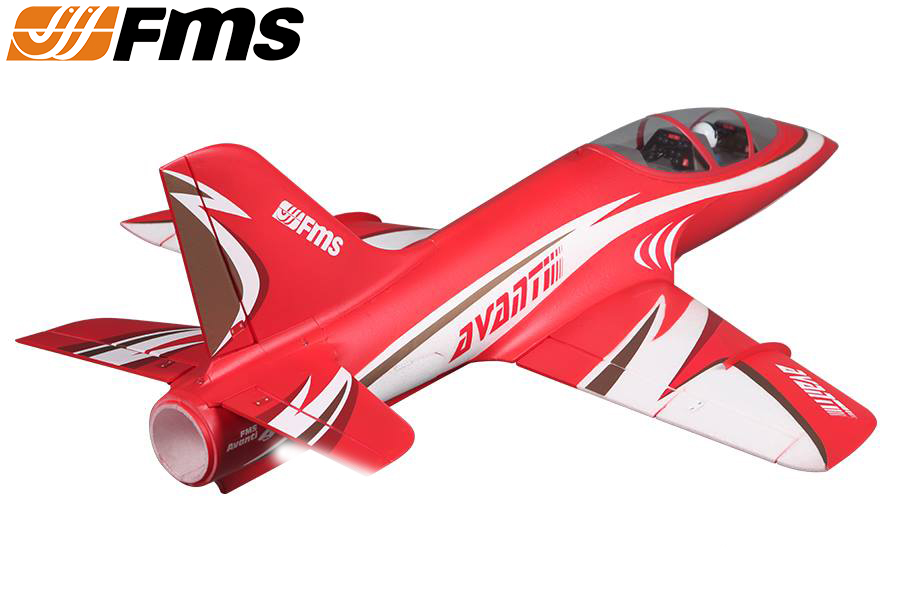 FMS 900mm Avanti 70mm EDF Jet Features:

Powerful Inner running Brushless 2860 KV1850 with a Predator 70A ESC

The latest Metal CNC locked-rotor mode E-retract with overcurrent protection
No glue required, Easy assembly using only a few screws
Multi-connector for one-step installation
Large battery compartment
Pre-installed, newly designed ball link style control horns for more throw
50mm front wheel and 55mm rear wheels
Spec Check:
Wingspan: 900mm/35.4in
Length: 1050mm/41.3in
Flying Weight: Around 1750g
Power System: Inner running Brushless 2860 KV1850
Speed Control: 70A
Propeller/Fan: 70mm 12-blade
Servos: 9g Metal digital × 8
Experience Level : Intermediate
Assembly Time : 15 minutes
Wing Load : 101.7g/dm² (0.23oz/in²)
Wing Area : 17.2dm² (266.6sq.in)
FMS Avanti Dimensions:

Please Note: This is sold in ARTF format and requires 6Ch Radio System, 6S Li-Po Battery, Charger and AA batteries.